It's Wednesday.. and that only means-
What I Ate Wednesday
. Originally, I planned on posting workouts on Wednesday, so at the bottom I added a small list for Werk Wednesdays. Also, the comment box is now open for anyone and everyone who wants to comment. Have a great day!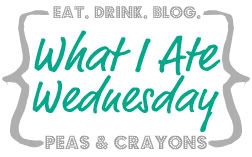 Breakfast:
2 egg omelette: Sliced tomato, spinach, orange pepper

Before flip

Yum
Broiled grapefuit: Sprinkled with brown sugar, broiled on HI for 7 minutes


Lunch:



Supper:


Can't forget dessert: White Chocolate Pecan Bark
Werk Wednesdays!

15 repetitions each
Stretch

Alternating jumping lunge

Burpees

Jumping jacks

Bicycle crunch

Push up

Squats

Burpees

Mountain climbers

Push up

Cool down

REPEAT ONCE
This is TOUGH but worth it! Good Luck and get it in!