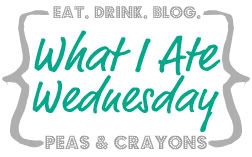 On Wednesdays, Jenn from the blog
Peas and Crayons
host a food party called
What I Ate Wednesday
. WIAW is a day of eats in picture form that helps the blogger reflect on his/her day of eats. Sort of like a food journal internet-style. Her blog and WIAW gives great exposure of delicious and nutritious combinations. It's amazing what one can do to make up a yummay meal.
What I Ate Wednesday; What Mindy Ate Tuesday (same thing ;-D)
Breakfast: 1/2 cup plain Chobani + 1/2 cup cottage cheese topped with 1/4 cup Fiber cereal + dry oats, a few drippings of honey, a handful of grapes and 1 tbsp of CRUNCHY(!!!!) sunflower seed butter
1/2 of an orange
A few white-chocolate covered pretzels were also snuck in
I didn't take pictures at lunch, but it was delicious!
Lunch: An egg, cheese, and jelly english muffin
Roasted broccoli and cauliflower
Supper: Heirloom Market BBQ
This bar-b-que joint is my favorite restaurant in Atlanta. It is stuck beside a convenient store which was sketch at first, but it has delicious food. The owners are two chefs who studied abroad in Korea, these two people know their food! It isn't the typical bar-b-que with tons of french fries or chips, there are a variety of sides and there are all kinds of flavors varying from korean bbq, texas bbq, pulled brisket, bbq chicken and many, many more!
Tonight I went with the Spicy Korean Sandwich. I always end up bringing half of it home to eat the next day!
with Korean Sweet Potatoes on the side
and a cucumber-radish salad (soo fresh)!
There's my day of eats! I always try to sneak in a variety of protein, carbohydrates, healthy fats, fruits, and vegetables! <-- Always keeps me full, and I will refrain from snacking.
Thanks to Jenn for hosting the food party!
Stop by tomorrow! I have a yummy winter vegetable soup recipe coming your way. Perfect for this chilly weather.. brrrr